Joya
From Perplex City Wiki
Jump to navigation
Jump to search
Joya Remton
Perplex City
Date of Birth
Futures Sign
Occupation
Popular Vocalist
Religion
Associations
Hesh Records; often appears in the news
Email
Website
General
Has a tattoo on her Right shoulder
Usually seen sporting bright pink hair.
After Joya broke up with her then-boyfriend Alejo Jackson, her producer at Hesh Records, Horace Shockley stepped in as a protective love interest.
His methods quickly became overbearing and forceful, and Joya submitted without question.
Shockley left Hesh Records when Producer Zanadun Kane left, citing working hours as a major reason. In effect, Kane and Shockley staged a walk-out.
And so Joya followed Shockley on exiting Hesh.
The pair, Shockley and Joya, were engaged to be married on June 21, Gyvann's Day.
Joya, in her own words:
I was pretty desolate after everything that had happened with Alejo, and I found myself just going along with everything Horace wanted me to do. ... I felt really trapped, and the day before the wedding, I didn't even think about it, but I just ran. I'd like to say Horace and I are friends now, but it's not so. That's why I'm back with Hesh, I could never salvage a working relationship with Horace now.|}
On the day of her wedding, she simply failed to show up.
Soon after, was spotted with PCAG athlete Ryan Cahill, but for the most part, she went into seclusion.
On 11-SEP-05, she came out of seclusion, visibly pregnant. No word on the identity of the father, but the child was due in Late December.

Nine months prior to that date is Late March, which means the father is anyone's guess.

On 22-DEC-05, at 2:48am, Allegra Melody was born after 4 hours of labour.
02-AUG-06 - Rumors mills being what they are, it would seem the tides have changed once again.
Joya, Alejo Reconcile
Celebrity-watchers say that pop stars Joya and Alejo Jackson were spotted together Wednesday afternoon with Joya's daughter, Allegra Melody, enjoying what appeared to be a very domestic picnic at Caesura Park. The sighting has sparked inevitable rumours that the pair of musicians are rekindling the romance they ended over a year ago.
The Sentinel, more news in brief, 03-AUG-06
And, the end. Again.
Alejo, Joya Quarrel
Pop stars Alejo Jackson of Roll for Damage and singer Joya were spotted having a heated row on Saturday night, dampening the hopes of those fans who had hoped the two were well on their way to a romantic reconciliation. Their argument came during what had until then appeared to be an amiable night out for the two at Cervantes.
The Sentinel, more news in brief, 04-AUG-06
Later, in the several-years-later update by Violet, she mentions that Alejo & Joya seem quite happily together again, probably for good this time.
Known Songs:

Don't Leave Without Me
There for Me
Disappearing Act
Allegra Melody
Deeper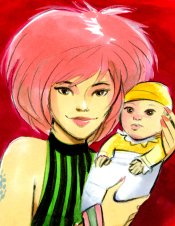 People Around Her
Timeline
28-MAR-05 - Wedding to Horace Shockley is announced
22-APR-05 - Scandal arises when she vomits in public
23-MAY-05 - Collapses; admitted to Phuah Hospital
29-MAY-05 - Released from Phuah Hospital
21-JUN-05 - Planned wedding date. She doesn't show.
09-AUG-05 - Seen courting PCAG athlete Ryan Cahill.
11-SEP-05 - Came out of seclusion briefly, visibly pregnant.
12-DEC-05 - Is spotted with Ryan Cahill.
22-DEC-05 - 2:48am - Allegra Melody is born after 4 hours of labour.
09-JUN-06 - Joya announced timidly she would be returning to Hesh Records.
29-JAN-07 - New record announced, to be released, Spring 2007
References
Perplex City Sentinel:

news in brief, 28-MAR-05, "Joya to Wed"
news in brief, 29-MAY-05, "Joya Released"
letters, 01-SEP-05 "No Love Lost"
More news in brief, 12-SEP-05 "Joya Leaves Seclusion"
News in brief, 24-NOV-05 "Joya Denies Claims"
article, 24-NOV-05 "Iona Interviews.... Helix Hesh" link