Misprints and Rarities
From Perplex City Wiki
Jump to navigation
Jump to search
A few cards were part of limited print runs, were special promotions, or had errors or changes in printing. This page attempts to record them.
Promotional Cards
Group 333 cards
2005 E3 cards
These were given out at the 2005 E3 conference, with one exception. Card #172 was not available in paper form, but was being shown in a film loop playing on a plasma television.
NY Toy Fair
At the February 2006 New York Toy Fair, A number of cards were handed out at the Mind Candy booth. Most of them were simply Wave 1 or 2 cards. However, Season 1 Card #001 - Dem Old Bones and Season 1 Card #004 - Zoo Zanyism were previewed for the first time. Also of note is the fact that the cards were special limited prints with no scratch off code, only the text "NYC Toy Fair 2006 Gamezone, Stand #6160".
Gold Card
The only (to date) Gold Card.
A limited run, only three hundred and thirty three of these cards exist (making them very expensive on ebay)
They do not have the silver scratch panel found on other puzzle cards
Card reverse features Mind Candy Design employees, Guest Puzzle Architects and Guest Artists
2006 ComicCon Card (#P01)
P01 - Issue 0 - A Call From the Past - snowflake

Card reverse: "Solve the puzzle on the reverse of this card and go to booth #305 to claim your free pack of Perplex City cards."
Some have observed the answer is annoyingly simple, however the card was actually to be solved on the spot at the Mind Candy booth, so no additional tools or prior knowledge could be expected.
Select Misprints
#251: The Thirteenth Labour
In the recent print run of cards, about wave 3 or 4, a batch of #251's which were entirely purple emerged. These new purple-silver hybrids now apropriately displaying the difficulty level of #251, that of "Purple + Silver = Well hard" were welcomed by new and old players alike, amusing and confusing respectivly, and probably at the same time too. Below we'll have some scans of the original #251 and the new and, in my opinion (which is the one that counts) improved!
Print Changes
Several cards had minor changes, typically related to brightness or contrast, between print runs. The changes are not drastic enough to be considered "errors" exactly, but they are certainly visible changes.
#083: Pawnbroking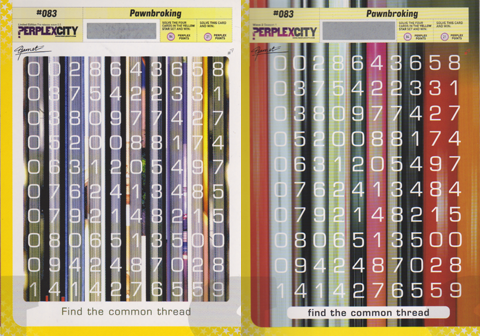 #182: Transit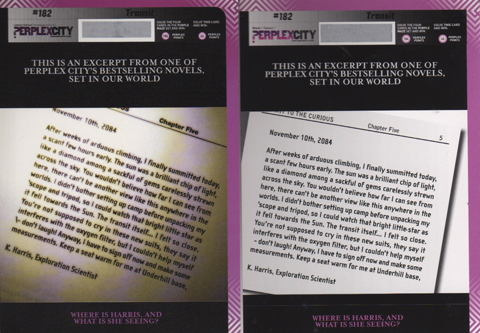 #185: Spin Cycle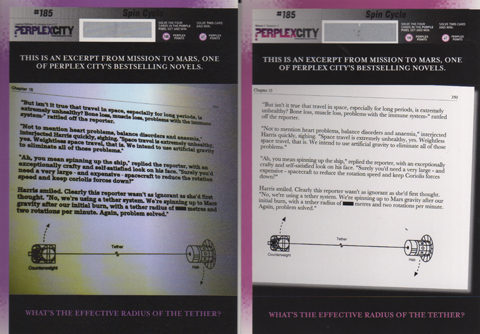 #206: Mexid Massege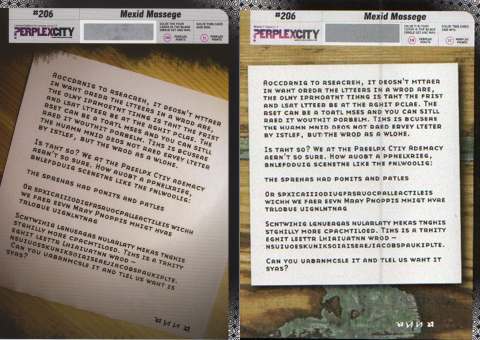 Discontinued
The following cards are no longer being printed. UKver2.0 discovered this when he did not receive them as part of the PXC film contest prize.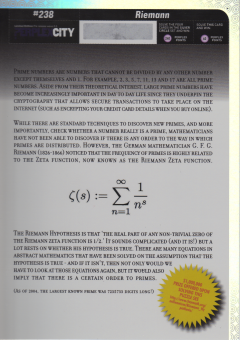 http://perplexcitycardcatalog.com/1/238/
Relativity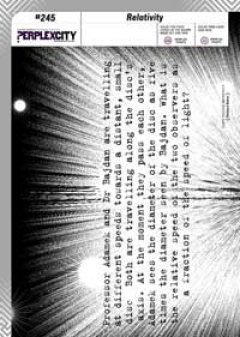 http://perplexcitycardcatalog.com/1/245/
Card Backs
Versions
The backs of the cards have gone through at least 2 versions. These two versions are not intrinsically unique in any way. They do, however, show some differences, as follows. Version 2....:
...is lighter in color. Sente's face is less rosy.
...is zoomed out a bit wider from the instruction sheet, showing more of the surrounding decoration.
...uses the newer gradient Perplex City Logo
...is less fuzzy, and much easier to read.
...does not have the number to text for hints printed directly, but shows instead a web address to go to for texting hints. http://www.perplexcity.com/hints
...shows a different leaderboard sampling (instead of a list of Mind Candy employees, it shows a list of actual players, probably taken from live leaderboard sometime in early 2006)
...(most interestingly)has an actual picture of The Receda Cube! This was the first time the cube was seen anywhere. The same picture later became seen, a bit larger, and in more places (including the upper left corner of this wiki).
Deviations
There have been, for various reasons, a number of cards which have been printed with alternate backs from what they otherwise would be. These are typically promotional runs of cards sent to players to be distributed in their neighborhood. When this is the case, the idea is to make the cards most useful to new players, with a full set of instructions on the backs of all cards, effectively making them very good sampler cards. So as a result, there is a relatively small number of cards which have been printed which do not have the standard Map Back, but instead have the Common Rules Explanation back. They are:
Cards sent with Scarlett's card distribution challenge:
Cards sent as part of Mind Candy University Invasion:

Season 1 Card #039 - 4 Colour Theorem -- most unusual about this card is the fact that it actually has the standard Map Back one expects to see on Algebragraffiti. In effect, these two cards' backs have been swapped.