Difference between revisions of "Misprints and Rarities"
From Perplex City Wiki
---
Revision as of 11:15, 19 August 2006
A few cards were part of limited print runs, were special promotions, or had errors or changes in printing. This page attempts to record them.
Promotional Cards
Group 333 cards
TODO
E3 cards
TODO
NY Toy Fair
TODO
2006 E3 card
TODO
2006 ComicCon Card (#P01)
TODO
Misprints
#007: Aromarama
TODO
#251: The Thirteenth Labour
In the recent print run of cards, about wave 3 or 4, a batch of #251's which were entirely purple emerged. These new purple-silver hybrids now apropriately displaying the difficulty level of #251, that of "Purple + Silver = Well hard" were welcomed by new and old players alike, amusing and confusing respectivly, and probably at the same time too. Below we'll have some scans of the original #251 and the new and, in my opinion (which is the one that counts) improved!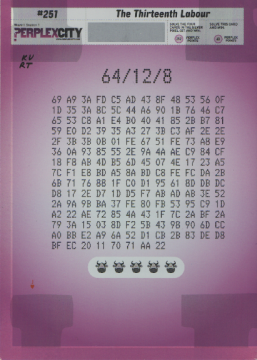 TODO: It'd be nice to have a picture of the *other* style 13th Labour
Print Changes
Several cards had minor changes, typically related to brightness or contrast, between print runs. The changes are not drastic enough to be considered "errors" exactly, but they are certainly visible changes.
#182: Transit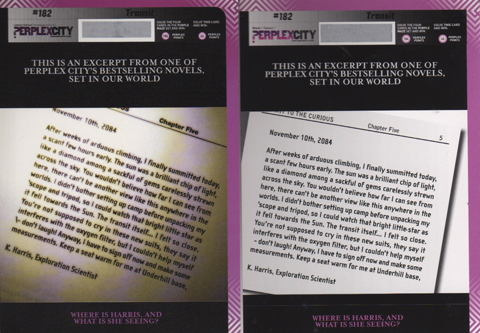 #185: Spin Cycle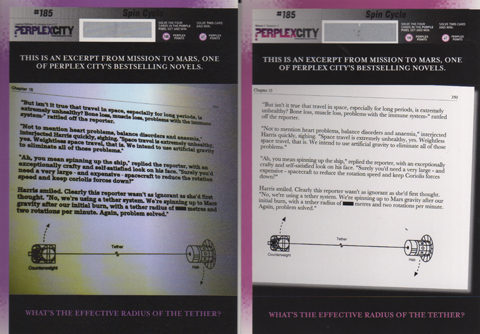 Reprints
Discontinued
The following cards are no longer being printed, according to (TODO: reference)
Riemann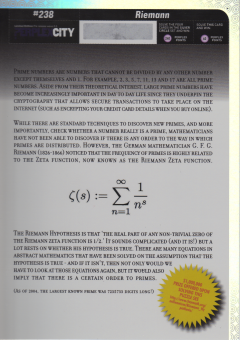 http://perplexcitycardcatalog.com/1/238/
Relativity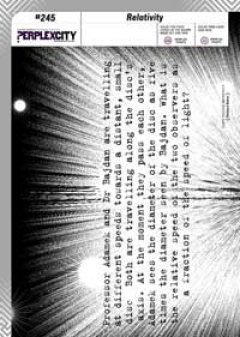 http://perplexcitycardcatalog.com/1/245/