Michael Corolla
From Perplex City Wiki
PERPLEX CITY, SEASON ONE
The search for the Receda Cube on Earth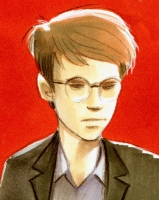 General
Stood trial for the murder of Karen Chondelle
Pleaded not guilty
Legal representative: Johann Jacobson
Judge Alice Zeller declared a mis-trial on 05.05.05
A retrial is being delayed, while more information was sought.
However, on 22-SEP-05, the case was entirely dismissed as the prosecution announced all it's evidence slowly unravelled.
"It looks like a juror was being paid to convict him," said Corolla's legal representative, Johann Jacobson. "Nobody does something like that without a big motive, and we're going to find out what that motive is."
References
Perplex City Sentinel

more news in brief, 21-MAR-05 Corolla Trial Adjourns
letters, 21-MAR-05
letters, 25-APR-05 "Judicial Brouhaha"
more news in brief, 17-JUN-05 "Corolla Retrial Up in Air"
more News in Brief, 22-SEP-05 "Corolla Case Dismissed"
feature, 23-DEC-05 "Year in Review: Newsmakers of 268" link