Laura Hall
From Perplex City Wiki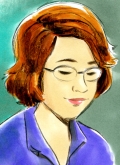 Name: Laura Hall
Location: Dallas, Texas
I'm an English major with a strong background in journalism and ethics in news media, and (for now) I work full time in the field of public relations, marketing and media writing.
Among my hobbies are reading, music, travel, crafts and photography.

Some game-related factoids:

Visiting from my PXC profile or one of the forums? Make sure you've done everything included on this list!
Do you edit the wiki much? Consider adding the tag "wiki" to your profile as well!

Feel free to add me on any of the following!
e-mail - lehall20@gmail.com
and lhall on IRC (irc.chat-solutions.org:6667 #syzygy)