Rupert Ayano
From Perplex City Wiki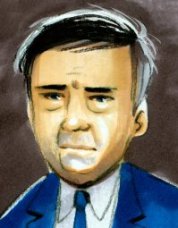 General
Convicted on charges of fraudulently receiving over PCL800,000 in forged expense reimbursements and inappropriately obtained bonuses and benefits.
Will serve five years in prison and must repay Comprendo Finance for every Leck stolen, plus an additional PCL150,000 in punitive fines
Eventually stated the money was spent in an illicit love affair with Frida Lorne, his manager.
He claims the money was spent on extravagant gifts for her, which she was aware of, and encouraged.
References