Ascendancy Point
From Perplex City Wiki
Over 1,300m and 170 stories tall, Ascendancy Point is the tallest building in Perplex City. Its height allows the millions of tourists it receives each year to take in the whole city. Known for its high-priced housing and expensive boutiques, the Point houses a variety of tenants, including private apartments, corporate headquarters, gardens, and more.
Specifications
The groundbreaking event was on or about September 3, 1995 (258 AC). The building was completed in 1996 (259 AC).
Height: 1,700 meters = 5,577.42782 feet = 1.05633103 miles. The Point surpasses the Noh Tower by more than 400 metres.
Stories: Over 170
Business Tenants: Over 3,500
Residents: Exact number unknown, but exceeds the number of business tenants
The building is located near the center of Perplex City. Its main entrance is located on Ascendancy Lane, which runs parallel to Fivebridges Lane, one of the city's major thoroughfares. Nearby businesses include the Holl Lane Hotel, Hesh Records, the Noh Tower, the Apolyton Institute, and MDC.
The Point's website declares it to be an "architectural achievement". It employs composite CNT materials that can withstand high winds and earthquakes. Ascendancy Point is also environmentally friendly and generates a significant percentage of its own power through high efficiency solar cells and wind power. The open-air gardens enjoyed by its residents are protected by high-tech buffering devices which turn the powerful winds into a gentle breeze. The skyscraper also extends several floors underground and has its own dedicated subway station.
Recreation
Recreational opportunities within the Point are abundant. An observation level on the 165th floor allows visitors to take in the whole city. A relaxing waterfall garden and arboretum inhabits floors 40-44, along with black-and-white games such as Chess and Go. Classic movies are shown in the cinema on the 78th floor, which offers free admission during the day. The Point's art galleries are home to some of the city's most prized collections. Popular restaurants such as the Vista and Red Hot Bakery provide a variety of yummy treats. The Grand Atrium features murals depicting the Five Tasks of Madna in the writings of Lemnal. Residents also enjoy pools, gymnasiums, and communal gardens.
Apartments
Ascendancy Point offers single, duplex, and triplex apartments with full amenities.
Floors 40-60 - Single-level apartments at PCL 30-35,000 a month. These apartments benefit from the pools and gymnasiums on every third floor as well as communal wind-buffered patio gardens.
Floors 80-100 - Single-level apartments at PCL 45-50,000 a month. These apartments benefit from pools and gymnasiums on every floor and communal wind-buffered gardens.
Floors 120-140 - Single-level and duplex apartments at PCL 65-85,000 a month. Duplex apartments benefit from private terraces, while single-level apartments may benefit from private gardens.
Floors 150-170 - Duplex and triplex apartments at PCL 100-150,000 a month. These high-prestige apartments all include private terrace gardens and private pools. Several of the apartments include rooms which take up the entire floorspace of that level of the Point, affording 360-degree panoramic views of the City.
Amenities include 24-hour concierge service, access to the arboretum, public gardens, art galleries, large screens, laundry and cleaning services, and discounts to many of the Point's businesses.
Internal Systems
The Building's internal systems (environmental, security, & business) are all completely tied to each other. Every element in the system integrates with every other element. This is done with the ideal goal of making the Point the pinnacle of luxuriant living. The potential (and inevitable) backlash of this system integration, however, is that when one thing fails, everything fails. Running the building has become more challenging; when it first opened, it practically ran itself, but as it ages small details emerge that could cause a problem over a longer period of time.
Comprendo Finance provides banking services to Point residents and business tenants. Security is handled by Eclipse Security, which incorporates a high-tech surveillance system tracking information throughout the entire building. The skyscraper's internal systems also covers air conditioning and heat sensors.
The building's elevators are operated and serviced off-site by EKOS Elevators.
Staff
Building Layout
| | |
| --- | --- |
| 150-170th floors | Duplex and triplex apartments at PCL 100-150,000 a month. |
| 170th floor | food establishments, including possibly Red Hot bakery and Vista Restaurant; |
| 165th floor | Observation Level, |
| 160th floor | Expensive apartments; model apartment |
| 140-160th floors | Cognivia corporate headquarters |
| 120-140th floors | Single-level and duplex apartments at PCL 65-85,000 a month. |
| 125th floor | A garden/forest arboretum |
| 80-100th floors | Single-level apartments at PCL 45-50,000 a month. |
| 78th Floor | Cinema, showing primarily classic movies (Free during the day) |
| 40-60th floors | Single-level apartments at PCL 30-35,000 a month. |
| 40-44th floors | The relaxing waterfall atrium, and "black-and-white themed games" such as Chess and Go. |
| Grand Atrium | Murals, depicting "The Five Tasks of Madna in the writings of Lemnal" |
Businesses
Ascendancy Point is home to more than 3,500 businesses, include several notable ones.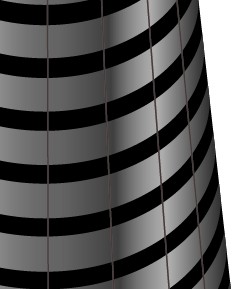 Comprendo Finance
Comprendo Finance provides banking and financial services to Ascendancy Point residents and business tenants. They have twenty branches within the building. Their website is found at http://www.ascendancypoint.com/comprendofinance/ (password protected).
Eclipse Security
Eclipse Security handles all security issues for the skyscraper. They utilise a high-tech surveillance system which tracks movement throughout the building. Eclipse's website is found at http://www.ascendancypoint.com/eclipsesecurity/ (password protected).
Red Hot Bakery
Known for creative baked goods such as their corriander-lime buns, the Red Hot Bakery has been patronised by Scarlett Kiteway and Monica Grand (the Advisor).
Cognivia
Cognivia manufactures consumer mental stimulants, including Ceretin. Cognivia's headquarters are located in Ascendancy Point, on floors 140-160.
PCBC
The Perplex City Banking Corporation, the city's largest banking institution, holds offices within the Point.
Notable Residents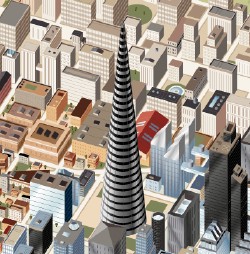 The Point's high-luxury apartments are home to some of Perplex City's most notable newsmakers. A partial list of residents is also available.
Monica Grand
Monica Grand was a consulting economist for PCBC. She played an important role in the early hunt for the Cube, acting as an Advisor to Pietro Salk, a journalist investigating the murder of Five of Cups owner Bernardo Holyoke. Monica was murdered within her Ascendancy Point apartment by V, one of the five accomplices hired to steal the Cube.
Helix Hesh
Helix Hesh is the founder, president, and CEO of Hesh Records. A known womaniser, he has been romantically linked to Serena Duncan, Tippy Ankron, and Satine Noir, amongst others.
Nathan Earlywine
Nathan Earlywine is a member of the Perplex City Council and currently running against Camyrn Scott for the seat of Council Leader. He favors budget cuts to AQSYS, and has repeatedly criticised Scott and Academy headmaster Sente Kiteway.
Camryn Scott
Camryn Scott currently leads the Perplex City Council. She is running for re-election, and supports development initiatives in Old Town and the Northside Nature Preserve.
Joya Remton
Joya is a popular vocalist for Hesh Records whose personal life often makes headlines. She has been romantically linked to Alejo Jackson and Horace Shackley, and has a young daughter named Allegra Melody.
Happenings
Ascendancy Point has made headlines in the Sentinel many times over the last few years.
Environmental Problems
Problems with Ascendancy Point's internal systems began appearing in the news in July 2005 (268 AC). As the internal systems are all tied to one another, a failure in one system can cause a failure in another. These failures were used as an advantage by the Cubehunters in late July of 2005. Using a backdoor installed on Eclipse Security's website by the Advisor, Cubehunters were able to log into and monitor the Heat Sensors and Air Conditioning systems.
The air conditioning systems could be crashed. And if they were crashed at the right time, the system would spew out bits of data: a partial listing of Ascendancy Point Residents. Furthermore, by utilising the Heat Sensors, Cubehunters could watch residents move about the building. By putting all the data together, it was learned that the Advisor was Monica Grand.
The Cubehunters' tampering of the environmental systems influenced the public's opinion of the Point. The Sentinel reported that the Point had been shamed; although the later reported that the problems were being addressed, the continuous issues were enough to cause residents to form the Ascendancy Point Residents Association as a way to voice their concerns. The ARPA later joined with two lesser known groups, the Ascendancy Point Commerce Union and Tenants of Ascendancy Point, to establish a class action lawsuit against Point management, citing both the murder of Monica Grand and the two base jumpers.
Murder of Monica Grand
Monica Grand was a PCBC economist, and Advisor to journalist Pietro Salk. She was also part of the team hired to steal the cube on the night of the Founder's Ball. Her codename was "Kilo", or K. She was brutally murdered in her apartment by teammate V; an audio recording of her murder was later found in Cyrus Quinton's personal files.
Her death caused further problems for a potential PCBC deal that was already under question. Her murder occured while Point property manager Alasandro Mere was being interviewed by Iona.
A clue she left for Sylvia Salk led to the discovery of the Receda Approach, the start of the Receda Trail. The trail led to discoveries about the nature of the Receda Cube and the correspondence between Earth-based members of the Third Power.
Base Jumpers
Although Point security claimed to be prepared to apprehand any such thrill seekers, two base jumpers succeeded in parachuting off of Ascendancy Point in May, 2006 (269 AC). In the early morning hours of 17-MAY-06, an unknown jumper made his way to a little-known service hatch, climbed to the very peak, and leapt from the highest point of The Point. Then late night 21-MAY-06, another base jumper by the name of Raoul Benton attempted to jump off the pinnacle of Ascendancy Point, but hit the side of the building on the nineteenth floor and slid the rest of the way down, sustaining injuries on the way. He was later arrested by police. Raoul insisted he was not the person who successfully completed the jump on the 17th. Clarissa Oh, the last person to attempt such an event, in 2003, was caught before making her way to the top. Such base jumpers are often part of an extreme puzzling movement which attempts to solve difficult puzzles while performing extraordinary physical feats.
Operation Bayonet
Operation Bayonet was a "dark" operation by special operatives of the PXC Police Force, headed by Helena Frye. The operation was launched when the Third Power kidnapped Scarlett Kiteway. Police investigations, with the help of the people of Earth, led to the discovery that the Third Power had a base inside of Ascendancy Point. The goals of the operation was to infilitrate this base, rescue any civilians being held as hostage, and hopefully retrieve any information related to the whereabouts of the Receda Cube.
The operation took place in the early evening hours (GMT) of 30-JAN-07 (270 PXC). The team was successful in rescuing Scarlett. This operation was not without its casulaties, though: police operatives Patrick Harrison and Petra Fishcook were both killed in the firefight. Three other operatives were seriously injured, including Detective Helena Frye. Four members of the Third Power were killed, including Academy member Roberto Solitano.
References
Perplex City Sentinel

More Headlines: 13-APR-05 "False Alarm at Ascendancy"
feature, 23-APR-05 "The Perplex City Tour Guide" link
article, 11-MAY-05 "Coralhouse Dies at 108" link
article, 15-MAY-05 "Iona Interviews... Aiko Entrescore" link
article, 05-JUL-05 "Ascendancy Point Riddled with Problems" link
article, 25-JUL-05 "Ascendancy Shamed" link
article, 22-SEP-05 "Iona Interviews... Alasandro Mere" link
feature, 23-DEC-05 "Year in Review: Newsmakers of 268" link
article, 18-MAY-06 "Thrill-Seeker Jumps from Ascendancy Point" link
article, 22-MAY-06 "Copycat Point Jumper Injured on Descent" link
article, 03-JUL-06 "Ascendancy Point Residents File Suit for Security Breaches" link
article, 11-SEP-06 "Guilty Jumper Cites Extreme Puzzling as Motivation" link
article, 31-JAN-07 "6 Killed in Deadly Police Raid on Point link