The Brotherhood of the Six
From Perplex City Wiki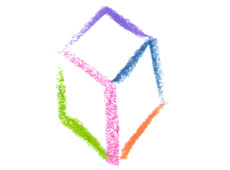 E-Mail: april.flynnt at brotherhoodofthesix dot com
Background
A Religious Cult in the City which practices Cubism
Seen as especially pious
Follows the gospel according to Gyvann
Formerly worshiped The Receda Cube as one of the true forms of God.

This changed, however, when it was revealed that the Cube was a weapon of mass destruction.
May be one of the oldest Cubist groups known.
Is considered by many to be succeeded by such other Cubist groups as The Reconstructionists and The Brotherhood in the Old Town.
Includes (though, is not exclusively) a celibate order dedicated to good works and a fuller understanding of the Cube
Has long kept silent on the topic of construction in the Old Town.

Began speaking out in favour of construction in mid 2006.
The significance here is unclear.
Meditation is a key part of the faith, which is done while sitting inside a large cube.
Wholeness of body, eschewing drink and drugs are also encouraged tenets
Also, this is a religion of proselytizing. Spreading the good word is somewhat required of members.
Observes the Following holy days:
In 2006, following the discovery that The Receda Cube was a weapon of mass destruction, religious fervor in the city seemed to flail into an all-time low. However, following an early-December swelling, that year's Restitution of The Cube was met with burgeoning throngs of followers across the city.
Plans a great commemoration of the Syzygy, an astronomical event considered to have great religious import.
Known Members
Autoresponder
Thank you for your message, to which I shall respond as soon as I am able.
Blessings be upon you. May the light of the Cube shine in your heart now and forever more.
Sister Flynnt
-- Celebrate winter solstice 267 with us! Festive service begins at 9pm on Tuesday 21 December!
References
Quirky Acuity

blog, 07-JUN-05 "Back to the compound" link
The Path of Least Time

blog, 01-DEC-05 "Ceremonies" link