Earthworks
From Perplex City Wiki
Jump to navigation
Jump to search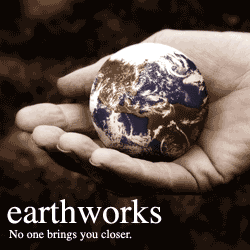 General
Located on Dalia Way
The first store to rely on selling nothing but Earth goods
Owned by and funded by Mitchell Alba
Assistant manager: Caryl Hyte
Competitor to Hannigan's, run by Lauren Hannigan
Will carry the Academy/Mind Candy adaptation of the classic game Stone Chase.
Towards the end of 2006, following the City Council election and start of the Earlywine era, Earthworks started to see a dramatic loss of profits. The Restitution of the Cube, usually a big gift-buying time for people all over the city, saw almost no sales at all going to Earth-based objects and holiday devices. Said Owner Mitchell Alba: "I'm considering discontinuing those lines for next year, unless something drastic changes."
References
Perplex City Sentinel

Advertisements, starting 20-OCT-05
article, Earthworks Store Opens on Dalia Way link
letter, 25-APR-05, "Earth Not-So-Chic"
More News In Brief, 06-MAY-05 "Hannigan's Focus on Quality"
article, 11-JUL-05 "Kohler: Earth Idioms Invading Perplex City" link
article, 21-NOV-05 "Demand for Earth Goods Shakes Economy, Report Says" link
article, 13-MAR-06, "Earth Anthology Sells Well Despite Cool Critical Reception" link
article, 02-OCT-06 "Mind Candy Releases Stones Game on Earth" link
article, 15-DEC-06 "Brotherhood Reports Record Participation Going into Restitution" link