Mind Candy
From Perplex City Wiki
Jump to navigation
Jump to search
Website: http://www.mindcandydesign.com/
Companion Website: http://www.mindcandypuzzles.com/
General
When the game began, there were many references to "MC", which proved very confusing to players
Mind Candy had a presence at:
Staff
Michael Smith

Chief Executive Officer
Co-founder of online retailer Firebox
Launched Mind Candy in 2003
He really, really likes the game Set
Jey Biddulph

Jack Dixon

Graphic Designer
Formerly operated a record label, Alaska Design & Recordings, with Olli Leivers
Hannah Boraster

Puzzle Designer
Attended University in the West Country.
Appeared on Reality TV
Olli Leivers

Graphic Designer
Briefly Attended Westminster University
Partnered with Jack Dixon for a time at Alaska Design
Previous Project: ILiketoDraw
Jo Carter

Developer and Protector of Purpleness
Has the following degrees from the University of Nottingham:

A BA In Law with French
An MSc In Computer Science

Perplex City Profile: Angelsk
Guy Parsons

Customer Service And Community Support
Perplex City Profile: GuyP
Possesses perhaps the floppiest hair known to mankind
Divinia Knowles

Studio Manager, replacing Fiona Silk
Has an Archaeology degree from the University of Wales at Lampeter
Answers phones, balances books, and so much more.
Dr.Chris Thorpe

Chief Technical Officer
Prior career as a research scientist
Has a deep and abiding love for William Gibson, particularly Pattern Recognition
Has "bleepy" musical tastes
Steff Davies

Network Sysadmin
Enjoys the simple pleasures to be found in taking things to bits, and then attempting to re-assemble them
Spent time in his youth playing MUDs online
Toby Moore

Java Developer
A keen traveller, recently returned from an overland trip between Russia and Bali
BSc (Hons) in Software Engineering
Enjoys surfing, snowboarding, scuba diving and playing "Go"
Eric Harshbarger

US Based Puzzle Designer
Has previously been an expert Scrabble player
Also has amazing skills with Lego
Ben Burry

Java Developer by day
Kilt-wearing dark avenger by night
A highly regarded member of the Perplex City playing community, until snaffled to work for Mind Candy
Creator of the Perplex City Card Manager, instrumental in the maintaining of the Trades Site, and one of the founders and chief techies of Perplexorum.
Perplex City Profile: buzman
Unfiction Alumni: buzman
Marty Batten

Lisa Long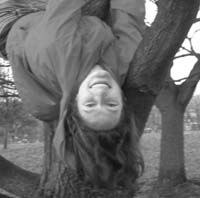 Head of Business Development
Is consumed by the search for sugary comestibles
Mark Walker

Java Developer
Programming ninja
Previously did work with more commonplace games. Boy do we hope he knows what he's gotten himself into!
Ryan Conway

Network Administrator
GADGETS!
GIZMOS!
MAC USER!
Originally from way up north
Graduated from Sheffield Hallam University with a degree in Computing Networks
Former Staff
Dave Blake

Developer
MA in Computer Science from Cambridge
Spent almost two years working for Jagex, developers of RuneScape
Adam Martin

Chief Technical Officer
MA in Computer Science from Cambridge University
Justin Berkovi

Art director
Set up and ran cult dance labels Predicaments and Nightrax
Has produced five solo albums and performed at clubs, raves and festivals worldwide
Also started his own design agency, and produced a wide range of work for Firebox
Website: [1]
Fiona Silk

Marketing
BSc. Hons. in Computer Science from Liverpool University
Unfiction Alumni: Fi
Mike Whitaker

System Architect
MA in Computer Science from Cambridge University
Plays Lindsey Buckingham in Fleetfoot Mike, a tribute band whose name everyone gets wrong
Now working for the BBC iPlayer team, having left MindCandy to work for Yahoo! UK.
Dr. Paul McCormick

Fearsome Emperor Of Card Production
PhD in Biostatistics at Cambridge University
The mole from the Clapham Common meet
Puzzle architect of the P01 Promotional Card, which was given out at ComicCon
Dan Hon

COO
Cloudmakers moderator
Pioneered The Trail, used by all subsequent ARG player groups
Holds an MA in Law from Cambridge University
Holds an MSc in Software Engineering from the University of Liverpool
Worked with Microsoft HIVE as Lead Online Community Developer
Blog: http://danhon.com/
Adrian Hon

Director of Play/Executive Producer
ARG player since 2001, with The Beast
Graduated from Cambridge University in 2003 with a degree in Natural Sciences
Left neuroscience DPHil at Oxford University in 2004 to join Mind Candy
Blog: http://www.mssv.net/
Sentinel Interview: Adrian's Sentinel Interview
In-Game Info:

Was introduced to Perplex City by Michael Smith, just after Hon started a PhD at Oxford
Has stated: "I don't think that we're in this for the money. We're helping because we have a genuine interest in helping Perplex City. Just as you're fascinated by our world, we're fascinated by yours."
Naomi Alderman

Lead Writer
Orange Award winning author of Disobedience
Has published academic papers on Buffy the Vampire Slayer
An avid fan of Lucasarts' Monkey Island II
Andrea Phillips

David Varela

Writer
"Given enough coffee, David Varela can write anything. "
Has worked with Richard Attenborough and Sandra Bullock.
Des

References
The Perplex City Sentinel