Jessica Holyoke
From Perplex City Wiki
PERPLEX CITY, SEASON ONE
The search for the Receda Cube on Earth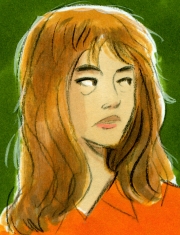 General
57 years old
Estranged wife of Bernardo Holyoke, former owner of Five of Cups
Joined the Reconstructionists a few months after the Cube vanished

Upon joining, she signed over all her worldly belongings to them and now lives at their country estate

Informally changed her name to "Kostka"
Pietro Salk and the Sentinel report she has nothing to add to the case of the cube Theft, or Bernardo Holyoke.
Released a statement claiming she has inside information which connects the Reconstructionists to the Cube theft in early 2006
Has been taken into police custody for her own saftey
A Police insider doubts the veracity of her claims, or the strength of her proof.
"I know I should celebrate the Cube's liberation from the unbelievers at the Academy, but my conscience suffers because there was a death that night. It is time for someone who knows the truth about what was done in love and faith to step forward."
References