Roll For Damage
From Perplex City Wiki
Jump to navigation
Jump to search
General
Also referred to as RFD
Perplex City's top selling band
Got their start at small venue The Click
Seventh album Random Encounter exceeded one million mark in its first week of sales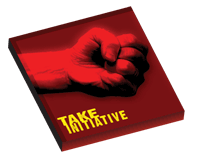 Eighth album, Take Initiative, was released on September 1st, 2005 at exactly midnight.

Was very well recieved by an adoring public.
Sales reached the one million mark within 4 days.
Is described as "a moodier, darker sound", as compared to earlier works.
The album was produced by bandmate Echo West
Tracklist includes Take Initiative, Hit Point, Fumble, Wisdom
Next album we know of, Character Development, was released in late 2010.

Was produced at about the same time Alejo was spending some time at Alchemy resort.
Band members were perfectly aware bandmember KT was a Reconstructionist didn't see that it mattered
Recipient of the City Star public awareness award
Has a strong collective love of the city
Encourages youth to take an active interest in public affairs
The day of the theft of The Receda Cube, they continued to work, even though the rest of the city was paralyzed with shock and despair
Between albums, the band often separates to create their own experimental sounds

They find when they get back together they have many more creative influences between them
Fans of the band caused some civil disruption, in early 2006.
People
Band members
Support Staff
References
Perplex City Sentinel

article, 28-MAR-05 "Joya to Wed"
News In Brief, 01-JUL-05, "RFD Announces Album Date"
article, 04-JUL-05 "KT Shocker: 'I'm a Reconstructionist'" link
news in brief, 01-SEP-05 "Take Initiative Out"
letters, 01-SEP-05 "No Love Lost"
article, 05-SEP-05 "Initiative Takes Off" link
article, 15-SEP-05 "Iona Interviews... Keenan Thoreau" link
article, 24-NOV-05 "Iona Interviews.... Helix Hesh" link
article, 26-JAN-06 "Iona Interviews... Alejo Jackson" link
article, 09-MAR-06 "RFD to Play Free Show at Euler's Disk on Tuesday" link
article, 16-MAR-06 "Police Bombarded with Prank Calls" link
The Path of Least Time

blog 08-SEP-05 "The Break-In" link