The Receda Approach
From Perplex City Wiki
PERPLEX CITY, SEASON ONE
The search for the Receda Cube on Earth
General
The Receda Approach is an Earth based band which uses music "inspired by Perplex City."
This poster led people to attend theaters in Toronto, which led to the discovery of The Receda Sign.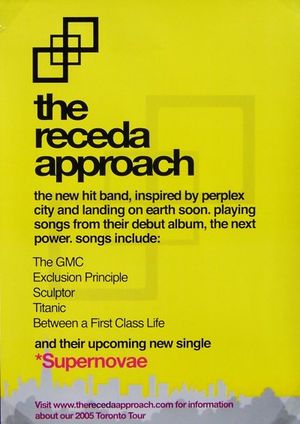 Band info
The following is collected info we know, assuming the plain facts are, at heart, true.
Poster Text
the receda approach
the new hit band, inspired by perplex city and landing on earth soon. playing songs from their debut album, the next power. songs include:
The GMC
Exclusion Principle
Sculptor
Titanic
Between a First Class Life
and their upcoming new single
Supernovae
Note:
"GMC" probably refers to The Greater Magellanic Cloud
"Exclusion" Principle refers to the Pauli Exclusion Principle which states that no two identical fermions may occupy the same space simultaneously.
"Sculptor" is a constellation located at: Right Ascension 0h, Declination -30º.

It was introduced by Lacaille in 1763 and therefore there is no mythology surrounding it.
It contains the Sculptor Dwarf Galaxy and the South Galactic Pole
Website Text
the receda approach will be playing pre-show support at all screens in these greater toronto area famous players cinemas from friday 23rd september:
canada square
paramount toronto
coliseum 10, coliseum scarborough
colossus woodbridge
silvercity brampton, newmarket, north york, mississauga richmond hill, yonge-eglinton, yorkdale

Canada Square (Famous Players) 2200 Yonge St. (Canada Square) Toronto, ON, M4S 2B8 Phone: (416) 646-2913 / (416) 646-0444
Paramount Toronto (FP) 259 Richmond Ave. W. Toronto, ON Phone: (416) 368-6089 / (416) 368-5600
Coliseum 10 (FP) 309 Rathburn Rd. W. Mississauga, ON, L5B 4C1 Phone: (905) 275-3456
Coliseum Scarborough (FP) 300 Borough Dr. (Scarborough Town Centre) Toronto, ON, M1P 4P5 Phone: (416) 290-5217
Colossus Woodbridge (FP) 3555 Highway 7 West Toronto, ON Phone: (905) 851-1001
SilverCity Brampton (FP) 50 Great Lakes Dr. (Trinity Commons Mall) Brampton, ON, L6R 2K7 Phone: (905) 789-6797
SilverCity Newmarket (FP) 18151 Yonge Street Newmarket, ON Phone: (905) 953-2792
SilverCity North York at Empress Walk(FP) 5095 Yonge St. Toronto, ON, M2N 6Z4 Phone: (416) 223-9550
SilverCity Mississauga (FP) 3055 Vega Blvd. (Erin Mills Power Centre) Mississauga, ON, L5L 5Y3 Phone: (905) 569-3373
SilverCity Richmond Hill (FP) 8771 Yonge St. Richmond Hill, ON, L4C 6Z1 Phone: (905) 709-0025
SilverCity Yonge & Eglinton (FP) 2300 Yonge St. (Yonge & Eglinton Centre) Toronto, ON, M4P 1E4 Phone: (416) 544-1236
SilverCity Yorkdale (FP) 3401 Dufferin St. (Yorkdale Shopping Centre) Toronto, ON Phone: (416) 787-2052
Symbol
The symbol used by the band - 3 overlapping squares - was first discovered in the Salk logs.
The Final Salk Log is not a log at all, but is a graphic. The text reads:
(4) People needed

3P: Monica claims still extant