Receda's Revenge
From Perplex City Wiki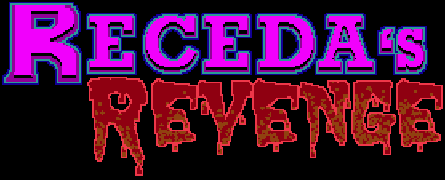 General
Website: http://www.re-cedasrevenge.com
Rules: http://www.re-cedasrevenge.com/rules.html
See: The Receda Trail for context.
Now out-of-order
IRC server: recedaschoolofmusic.com:6667
IRC Channels: #receda-chat #receda-game
To Play:
/join #receda-game
/msg RecedaBot queue
Results:
The Game
Progress Report, as it happened:
Thrilling Conclusion
<Muffin> Give the old man the potion!
<RecedaGame> The old man takes the potion gratefully, and then with surprising swiftness, pockets it. He discards his cane, whips off his cloak and towers above you, laughing maniacally. You shrink back, holding your sock puppet out in front of you, defensively. He looks at it with scorn (but doesn't bat it away, you notice). He says, "You fool! I am the dark Lord Flaganroth, and you shall never see your Princess or the Kingdom!" A flash
<RecedaGame> goes off, and he uses the distraction to disappear out of your house, having taken everything that you had of value, which wasn't much.
<RecedaGame> You cower on the floor of your home, wondering how you were so duped, when you see a scrap of paper he'd left in his haste. It says, "The key to the kingdom is" and then there's a slash in the paper, with "sortails" written to the right of it. Maybe it is a clue to your next quest to save the Kingdom, reclaim your family's glory, and save the Princess!
<RecedaGame> You have finished the FIRST QUEST OF RECEDA'S REVENGE!!
Catacomb map
          A  --+--  L
               |

           TROLL BRIDGE

               |
              -+-   
               |

               |
               +-   D
               |

               |
               |
               |

               |
              -+-
               |

               |    |
               +-  -+-  -+
               |    |    | 

     |         |
    -+-  ---  -+-   D
     |

|    |
S-  -+
|

Key
Logs

Update: Receda's Revenge 2: The Revenge
On 17-OCT-06 the website was updated, and referenced in the background of the Library of Babel site. The site now features a pair of dragons/sock puppets facing each other, one blue, the other red. The text portion reads:
> In the darkness, something is stirring. Ye evil Lord Flaganroth rides again. Will you seize the challenge and save the maiden?
A brand new adventure Evening (GMT), Wednesday 25th October

On 23-OCT-06 the website was updated again, mentioning the time that the game would start.
A brand new adventure
6.30pm (London time, GMT+1)
Wednesday 25th October
And on Wednesday, come it did. A great time had by all, I think.
The logs are here: Receda's revenge 2 log

There appears to be a type in field between the two dragon heads, which a "select all" or rollover reveals.