Myra Champaign
From Perplex City Wiki

Champion, year 270AC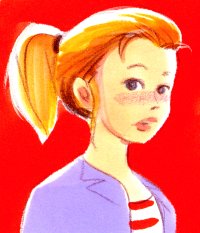 General
Youth prodigy athlete
Father: Klaus Lowrie
Birthday is sometime in October or November.
Was diagnosed with Walker's Syndrome at a very early age.

Took various enhancers as a medical treatment until she was 8.
During this time, she was assisted personally by Dale Robarding, Director of Research at Cognivia.
The eighth youngest player ever admitted into PCAG competition and the second youngest winner ever (.
Recognized as being one of the best young players on the scene since Serena Duncan's debut eight years ago.
Defeated Bryce Goran, eliminating him from competition (surprisingly early in the season).
Was honoured to play against Ryan Cahill, even though she lost very very badly.
As any 15 year-old would be, she is bubbly with adoration over Alejo Jackson.
Champaign Sparkles
Controversial PCAG phenom Myra Champaign set a fantastic bar for next year's championship competition last night in a showy exhibition match against Oliver Pohele. Champaign has said she is "determined to improve on last year's performance."
--The Sentinel, 19-JUN-06
Scandal
As a child, suffered from cognitive and developmental disorders, and was treated with a range of experimental enhancement medications
These enhancements are considered to be very unsporting, by some in the community.
A specially convened committee of PCAG officials judged in favour of allowing her to compete
The controversy is about her participation and the fundamental definition of cognitive enhancement by drugs
A campaign against her entrance into the PCAG is being led by Jonas Sawgrass of the Alliance for Clean Players
On 17-JUN-05, during her debut match (against Mikhail Terpening), protesters bought out a block of tickets and jeered the 14-year-old athlete.

She left the stage crying.
She still managed to win against Terpening.
After the whole thing, Alejo Jackson sent her an encouraging note and a signed poster.

Following her 13-JUL-05 win against Bryce Goran, opponents to Champaign insisted it to be clear evidence of "enhanced" players defeating "clean" players.
Her 12-SEP-05 loss to Ryan Cahill was not seen as a victory for "clean" players
Finally, during her 03-DEC-05 match, she fell just short of making the december cuts, and was ejected from championship play.

She remains optimistic, and intends to work harder to be sharper next year.
Sandals
She opened the 269 season making good on that plan, with beating out Oliver Pohele in an exhibition match.
Some (including PCAG analyst Orville Pomander) have speculated that the very nature of the Champaign scandal has sold more tickets and brought more observers to the games than any other single major element in recent years. The conclusion: everyone loves a scandal.
Her performance during the 269-270 season showed amazing prowess and skill, and was commented on numerous times as being highly regarded.
Though the entire city was shrouded in a veil of non-information transference, some little news was leaked:
Champaign Effervescent
PCAG prodigy Myra Champaign has made tremendous strides in this year's one-on-one matches, and her brilliant performance thus far in this week's multiplayer games leads some sporting enthusiasts to speculate that she may yet dethrone reigning champion Ryan Cahill.
The Sentinel, more news in brief, 15-DEC-06
13-JAN-07 - In the last few rounds of one-on-one knock-out matches, she went up against Ryan Cahill, defeating him soundly.
14-JAN-07 - Finally, in a dashing display of gaming gusto, Champaign blocks out Serena Duncan, taking the 270 season championship!!
References
Perplex City Sentinel

article, 31-MAY-05 "Champaign Accepted into Competition" link
article, 10-JUN-05 "View from Earth: Prodigal Prodigy" link
letter, 13-JUL-05 "Good Sportsmanship"
news in brief, 07-DEC-05 "Champaign Out of Play"
article, 12-JAN-06 "Iona Interviews... Dale Robarding" link
more news in brief, 19-JUN-06 "Champaign Sparkles"
more news in brief, 15-DEC-06 "Champaign Effervescent" (see above)