Tour Guide
From Perplex City Wiki
The Perplex City Tour Guide details the best that Perplex City has to offer in a single day, and also includes a calendar of city events. It appears in both print and online.
Printed Tour Guide
The printed tour guide given in the Parcels from Sente Kiteway. It's also include in the Starter Packs that are available for purchase. The following sections provide a transcript of the tour guide.
Front Cover
The printed guide is entitled 24 hours in Perplex City: From Ascendancy Point to the Azure Market, see the best that Perplex City has to offer in a single day. A header in the upper-right corner reads: PERPLEX CITY TOURIST INFORMATION 268. The front page has a black background with white text, and contains images from the Perplex City map. From left-to-right and top-to-bottom, the images include:
Inner Flap (transcript)
HOW TO FIND US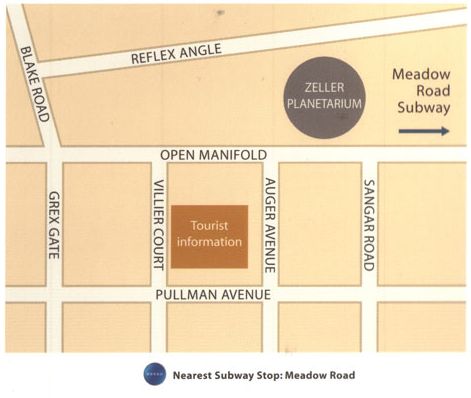 In juse 24 hours, you can't possibly take in all the amazing
sights and sounds of Perplex City. So why not make time in
your schedule to visit the Tourist Information Centre
at 181 Villier Court, to plan your next trip?
From the Centre, you can also join a wide variety of walking tours,
and speak with our friendly staff about your individual
travel requirements. Alternatively for more information visit


www.perplexcitysentinel.com/tourguide
Along the right-hand side of the page is the following credit:
This guide was produced by Open Design - www.opendesignagency.com and © 268 Perplex City Tourist Information Centre
Main Text (Transcript)
Welcome to Perplex City, the vibrant, bustling capital of puzzles, games and the intellect! In this short guide we've put together the perfect itinerary to make the most of just 24 hours in Perplex City; if you're planning a longer stay you might like to access one of our range of other guides. But if you've only got 24 hours, here's the way to see the best of what the city has to offer.
8am Breakfast at the top of Ascendancy Point At over 1,300m the Point is the tallest building in the city. The bakery at its 170th-floor restaurant is renowned too, so why not start your day taking in the whole city at a single glance?
9.30am Tour the Perplex City Academy The the subway from Ascendancy Station to Polygon South, for a quick walk through Polygon Park to Gatehouse 12, where you'll sign up for the Academy tour. Be sure to get there early if you want to book a tour including a visit to the Catacombs (which runs only twice a day, from the museum. Despite heightened security, tours are still running.
The Academy's experienced guides will introduce you to the beautiful, historical buildings, and tell you the legends and stories that surround them. If you're passing the Great Lawn at around 10.30am, see if you can spot Sente Kiteway, the Master of the Academy, who's known to take a walk around that time every day!
11am Wander the streets of the Old Town Exiting the Academy at the southwest corner, enjoy a relaxed stroll through the buildings of the Old Town. Your key can tell you the history of the quaint old streets, or you can simply enjoy imagining what life was like here hundreds of years ago.
12pm Take in some of the city's cultural sights Head south through the Old Town to Foreman Station, and take the subway north. In ten minutes you'll be in the cultural heart of the city, where you can take your pick of art galleries, visit the planetarium, or even take your place at a 20-minute performance at the concert hall.
1pm Lunch at the beach By this time, you might not want to walk to another subway station. So simply call a cab to pick you up and take you to one of the fine restaurants overlooking the ocean. Try the lobster, the baolan or the sirang for a real treat! If you take a table on the terrace, you'll be able to watch a rowdy game of beach volleyball.
2pm Games Plaza Now that you're close to the harbour, take the opportunity to visit Games Plaza, the headquarters of the PCAG )Perplex City Academy Games). Exhibition matches take place most days of the year. Take care though, if you step in the white games area you might find that you've challenged a champion to a game of Twin-Wheel or Clash!
3pm Shopping Wander northwards to pass through the shopping district. From the delights of the Azure Market where you can pick up gifts of enigma stones and an unrivalled selection of games, to window-shopping in the high-fashion stores of Dalia Way, there's something here to suit your wallet and your fancy.
5pm Afternoon coffee at Fenlon's Fenlon's Coffee House is a Perplex City institution; from Games champions to captains of industry, everyone who's anyone comes to Fenlon's for their legendary coffee and to relax at the gaming tables. Why not challenge a local to a quick game of backgammon at a corner table? Beware of hustlers though, who'll be happy to relieve you of your lecks!
6pm Outdoor pursuits Take a cab to Lang Stadium to watch a game of football. Or if you're in the mood for a puzzle, head north to the Mimasan Maze. Be warned, the Maze contains almost 15km of walk-ways, tunnels, ladders and slides, so you might outstay your 12 hours! Help is always available if you need it, but asking for help will mean that you won't receive your coveted "I solved the Mimasan Maze" t-shirt.
9pm Dinner on the Mobius Strip The Mobius Strip has shed its seedy reputation of the past to be come one of Perplex City's hippest locations, but it only really comes to life after dark. So book a table at the Aquarium restaurant (Upper Mobius Station), where fish swim across the glass walls and even in your glass table top, or at Conundra (Lower Mobius Station) where you'll have to solve the menu's riddles before you can find out what food's on offer.
11pm Nightlife Time to enjoy Perplex City's buzzing nightlife! On the Mobius Strip, you're in the perfect location for the city's best clubs and bars. Have a drink at Bullets, the poker bar frequented by such greats as Nadia Flores and Lloyd Larwood. Dance into the small hours at Cervantes, with its famous revolving rooms or admire the mood-wallpaper at Symphony. And, when your feet can't take it any more, just relax with a cocktail at Deep Blue, the late night jazz cafe, the perfect end to your perfect 24 hours in Perplex City.
Back Cover
The back cover contains a map of the Perplex City Subway System.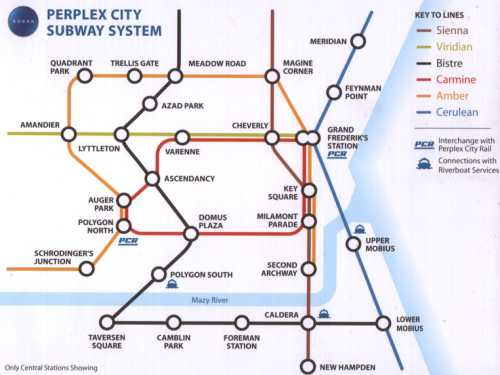 Online Tour Guide
A version of the tour guide also appears on the Sentinel's website, located at:
A transcript follows.
Introduction
The Perplex City Tourist Guide
There's more to Perplex City than Ascendancy Point! That's why the Sentinel is pleased to present our brand-new tour guide, 24 Hours in Perplex City. We've put together this fast-paced schedule to help you budget your time most effectively and hit all of the must-see spots.
With this short guide, you'll know where to eat, where to party, and where to expand your horizons -- just like a local. Even if you live in Perplex City, the guide may show you how to better enjoy your home town.
If you're in the city for a more leisurely visit, this guide is an excellent launch pad for helping you decide where to spend more time. Also check our City Calendar, below, for seasonal events.
About the Guide
The Perplex City Tourist Guide is produced in conjunction with the Perplex City Tourist Information Centre and designed by the Open Design Agency. Please visit the Tourist Information Centre at 181 Villier Court (near Meadow Road subway station) for more guides and maps.
Calendar of Events
The calendar of events is updated every now and then to list upcoming seasonal events.
29-JUL-05 Update
July 29 - Aug. 6
Craft Fair. Works from artists of all styles and in all media are on display at this juried craft festival. Admittance is free. Runs from noon to 9pm every day.
Aug. 5 - 8
Alchymical Celebration. This evening event in the Old Town showcases all of the old-fashioned flash and glamour from the birth of chemistry. Fireworks, refreshments. Admittance is free. Runs from dusk until midnight.
Aug. 27 - September 26
Apple Festival. Venture out to the farm country for apple-picking, sugared doughnuts, and traditional rural entertainment. Horse-drawn wagons, corn mazes, hot cider. Call the week before for specific hours and pricing.
Sept. 1 - 4.
Annual Pyramid Tournament. Come and test your skill against all comers in the city-wide annual pyramid tournament! Starts at 10am at Euler's Disc. Register to play 24 hours in advance. PCL18 to enter, free to watch.
Sept. 10
Field Day. Test your muscles against your fellow citizens in this rivalry of sheer animal prowess. Foot races, jumping, hurling. Begins at 8am. Free to enter, admission PCL30.
Sept. 9 - 19
Midnight on the Strip. This romantic midnight music festival is sure to generate memories you'll treasure for years to come. Enjoy the music and catch midnight sales on the Strip, or rent a gondola and enjoy the city skyline from a quiet distance. Midnight to 6am.
Oct. 8
Dance Auditions. Open auditions for the Perplex City Dance Company. Auditions open for public viewing, though seating is limited on a first-come basis. Would-be dancers sign up with the company in advance. Runs from 1pm until all dancers have auditioned.
Oct. 24 - 28
Science Festival. See what the brightest amateur minds in science have discovered in this year's festival. Hours from 10am to 4pm every day.
Nov. 5
Community Chorus. Join other singers for the annual community performance of Fei's Discovery, Parts 1-3. No prior experience in singing is required, just bring your sense of majesty! Be sure to arrive at the Hausam Auditorium by 7pm. Seating is limited.
Nov. 12
Puzzle Designers Summit. Puzzle architects of all levels of skill and experience are invited to this PCAG-supported summit on the state of puzzle design. Meet the superstars behind this year's PCAG matches. 9am to 4pm.
23-APR-05 Update
April 25 - May 1
Poker for Progress. PCL50 to enter, free to watch. This amateur-level tournament is an annual event in the Casino, with all proceeds going to charitable organisations.
April 30 - May 8
Children's Week at Zeller Planetarium. Free. Children and their caretakers enter free of admission, with special puzzles set to help kids learn about the galaxy we live in.
May 1
Whipsmart Day. Free ice cream of your choice to anyone who can solve our riddle.
May 12-15
Alchemy Beach Opening Day Celebration. Free. Beach party and surfing competition at Alchemy Beach. Clambakes, barbecue, volleyball, contests.
May 28
Open-air symphony at Polygon Amphitheatre. Free.
June 3 - 5
Mobius Strip Street Fair. Free. Jugglers, magicians, enigmatists.
June 15 - 17
Perplex Yourself. PCL20 to enter, free to watch. This PCAG-style tournament is for children from 6 to 12 years of age. See the future rising stars of the PCAG before anyone else!
June 10 - 27
Newguard Fort Society. Free. Come see the ruins the way your ancestors did. Reconstructed homes, period food and costume.
Images