Roy Yolen
From Perplex City Wiki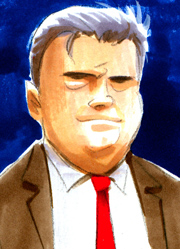 General
05-MAY-05 - Began a six week sabbatical whilst receiving treatment for leukemia

Prognosis is thought to be excellent
16-JUN-05 (presumed) - returned to work.
Voted (as did the rest of the council) to ban the Viard album The Silver City

Added: the ban could be lifted, if Hesh Records were to simply inform the public of all data regarding the controversial album.
Is concerned with the huge popularity of Earth-based goods.
Has announced he will retire from public office, at the end of his current term.
Yolen Endorses Nobody
Retiring City Council Member Roy Yolen has continued to refuse to endorse any of the contenders for his district's seat. The silence is highly unusual, with only a few months to go before the elections are held, and some analysts are saying that it is a particular snub at Douglass Finlay, who is seeking the City Council Leader spot through Yolen's district.
References