Ryan Cahill
From Perplex City Wiki

Champion, year 267AC

Champion, year 269AC
General
PCAG Star Athlete

Two-time grand Champion -- though this may be revoked.

Protege' of Sente Kiteway, who was also his academic adviser
Received the Beaumont Scholarship for Excellence from Sente
Resides in Ascendancy Point, L141 R20, overlooking the Mazy River.
Honored on 11 April for exceptional community service, received key to the city from Council Leader Camryn Scott in a ceremony at Polygon Park

Public works efforts include:

Visiting schools and hospitals speaking about the PCAG anti-drug policy
Helping to organize fund-raisers for research into cognitive disorders
In the gossip world: beginning in AUG-05, he has been cropping up courting Joya.

Supposedly, they are "just close friends".
12-DEC-05, the two were spotted having a bit of a tiff.
He came to visit Joya just a few hours before Allegra Melody was born.
He revealed that his relationship with Joya could only be platonic, because of his sexual orientation
I wonder at the View from Earth column of last week that accuses Perplex City of being intolerant of same-gender sexual preference. I, for one, have never felt that my individual rights limited by my sexuality; though it is amusing to note that the Sentinel and other press want me to be romantically involved with Joya, despite the fact that this is not historically in my nature.
At any rate, I assure the concerned people of Earth that there is no concerted effort to obliterate same-gender romances, nor any effort at all. Though we do appreciate the sentiment, I suppose.
266-267 Season
PCAG Champion of 267 AC

Won in a close final match against favorite Serena Duncan.
Considered by some to have been overshadowed by the theft of the Cube.
268-269 Season
PCAG Champion of 269 AC

Won, for a second time, in a close final match against Serena Duncan.
Has, rather optimistically, mused on the possibilities of The Cube being returned during his second reign as champion.
12-SEP-05 - spectacularly defeated Myra Champaign, 6-1

The match was seen as a classic example of experience over aptitude.
It was a much needed win for Cahill, who had been performing somewhat poorly all season.
Was, in many ways, a pivotal point of the 268 season.
Some have speculated he was doing quite badly in the season, because he chose to skip the pre-season games.
Was held to be very very closely tied with rival Serena Duncan, well into the end of the season.
The final match between the two was thoroughly exciting, and watched with great excitement and anticipation.
Finally, Cahill won out over Duncan in the last few rounds of game play.
She appeared quite bitter, and may be pursuing an investigation on his surprise win.
269-270 Season
Rumors persisted for months regarding Cahill and a certain investigation, over possible use of illicit enhancers throughout the last few weeks of PCAG play for several years.
The PCAG's Substance Compliance Program maintained strictest silence during their investigation.
In the 2006 season, Cahill had done quite well for himself, managing to come out of the knockout rounds in second place behind Duncan.

He took this standing in stride, quoting flimsy statistics to suggest he was comfortable being in second, but it was the final championship which mattered most.

05-JAN-07 - Rumor had it the Academy Oversight Committee had gained information implicating none other than Sente Kiteway in a coverup of Ryan Cahill's enhancer usage in the 267 and 269 PCAG championship finals.

It suddenly seemed very possible Kiteway & Cahill may soon face criminal fraud charges, among other things.

13-JAN-07 - Was beaten out of the 270 season-win in a one-on-one match with Myra Champaign, who would then go on to win the championship.
15-JAN-07 - Kiteway and Cahill were arrested during the 2007 Founder's Ball.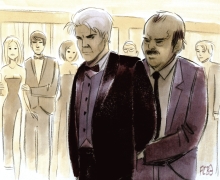 Arrest
For many years, Sente Kiteway had been the personal mentor and academic advisor to Ryan Cahill. The level of attention given to Cahill might be described as unusual, but certainly not unheard of.
From the period of time starting roughly in the 266 PCAG season, running until the 270 championship, Ryan Cahill was a skilled contender and masterful PCAG player and sportsman.
For an as-yet unspecified duration during that period, Sente was aiding Cahill in taking medical enhancers -- that is, drugs -- to improve his play. This is decidedly against PCAG rules.
This information came about when the Academy Oversight Committee discovered documents on Sente's key, and handed them over to the Substance Compliance division of the PCAG.
During the 270 Academy ball, on 15-JAN-07, events were finally brought to light, and both Sente Kiteway and Ryan Cahill were very publicly arrested.
Almost a full month later, Cahill finally wormed his way towards honor, giving a 30-page full confession to all charges.
References
The Perplex City Sentinel

more Headlines, 24-MAY-05, "Cahill Joins Drugs Council"
article, 08-AUG-05"Serena Takes Lead in Beginning Rounds of Championship Play" link
more news in brief, 10-AUG-05 "Joya, Cahill Together?"
more news in brief, 12-DEC-05 "Joya, Cahill Rift?"
article, 09-JAN-06 "Serena Duncan Shines During Week of Team Play" link
article, 16-JAN-06 "Cahill Captures Crown in Surprise Victory" link
letters, 19-JAN-06 "Sexual Politics"
more headline, 27-JUN-06 "Cahill Signs PCL58M Deal"
article, 05-SEP-06 "PCAG Investigating Championship Substance Abuse" link
article, 05-JAN-07 "Kiteway Implicated in PCAG Drug Fraud Investigation" link